SHEIN is Chinese online B2C fashion retailer founded in 2008 by Chris Xu in Guangzhou, China. The brand is headquartered in China, but serves over 220 countries. SHEIN is known for its enormous selection of primarily trendy women's clothing, and for it's very low prices.

Despite being somewhat reclusive from the media, SHEIN has grown to become the most popular fast fashion brand on the market. Thanks largely to social media and to celebrity endorsements, SHEIN has seen meteoric growth since its inception in 2008. The website sees a staggering 200 million visits per month, placing it among the top 150 most popular websites on the internet. And as of 2021, the SHEIN app is the most frequently downloaded shopping app. The company is estimated to generate around 10-15 billion in revenue annually, making it far and away the most profitable B2C brand.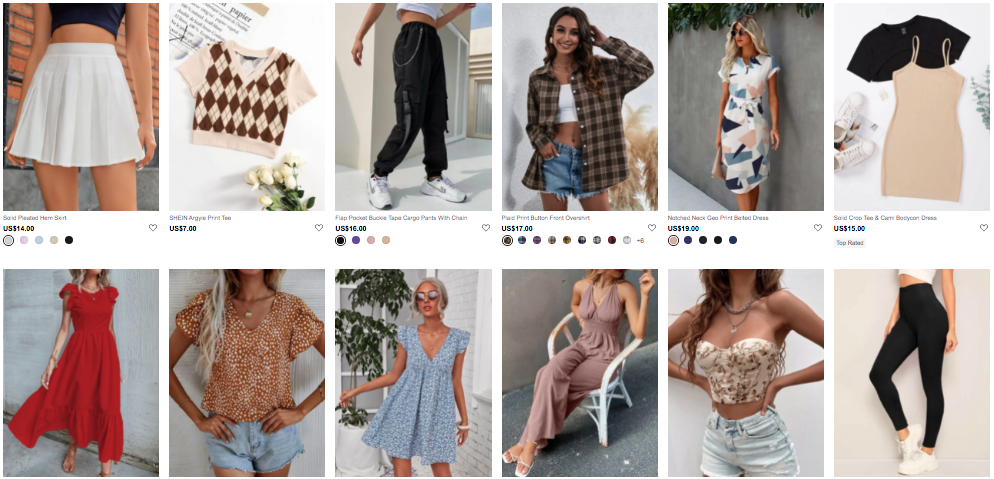 The brand focuses on trendy women's clothing, and features one of the largest selections of women's clothing, not just of fast fashion brands, but in the fashion market overall. The styles generally cater to younger women and teens. They feature all different styles, trends, seasons, and types of clothing, and for all different occasions and seasons. While women's clothing is SHEIN's main draw, they also offer men's and children's clothing, accessories, shoes, jewelry, bags, cosmetics, and more. The brand incorporate inclusive sizing, and even features a Curve & Plus size section.

In accordance with SHEIN's philosophy: "everyone can enjoy the beauty of fashion," the prices at SHEIN are extremely low. A large percentage of their items are available for under $25. Even the majority of the brand's dresses are listed under $20. This makes SHEIN one of the most affordable retailers for trendy clothing, and even edges out most of its B2C competitors. The brand compounds the savings with frequent sales, anywhere from 10-80% off.